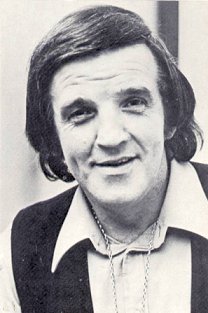 Alan "Fluff" Freeman 1927-2006

Fluff's death was announced today, 79 years old, not bad, I'd settle for that, especially if you've made your living from playing music for the whole of your life.

To many people, and to all of the obituaries that will appear today Fluff Freeman was the voice of the chart show "Pick of the Pops" on Sunday nights which he claimed as his own for five years until 1972 and then again on and off in a retro form throughout the 80's and 90's.

But to me Alan Freeman will always be Saturday afternoon with your head under a car dashboard or sanding the filler on a car wing, for that is where I always was right through the 70's with one old car or another, repairing things, fitting radios or cassette players in mates cars, or plastering gallons of plastic filler onto wire mesh then sanding it down when it dried to fill in the multitude of rust holes that were endemic in British cars of the 1970's.

His "Saturday Rock Show" had a huge following through the 70's and played an eclectic range of what is now called, by people of my vintage, "proper rock music" as opposed to the weak immitation "rock" that boy bands mime to nowadays.

And the one thing that springs to my mind when I recall me lying on the pavement underneath my old Austin 1300 Vanden Plas, wet and dry paper in one hand, black and decker drill with a sanding attachment in the other, is Emerson Lake and Palmer - not only did Fluff play a lot of ELP, and I mean everything that they'd ever recorded, but he used clips of their music as jingles during his show, his masters at the BBC must have cringed as the news bullitens were concluded with the piano stanza from "Benny the Bouncer" - or more likely his masters at the BBC would never listen to such output, preferring to pretend that Radio 1 wasn't one of their stations.

This is quite a good biography of the man, although the page isn't updated yet, the home page of the site is.